The tried and true formula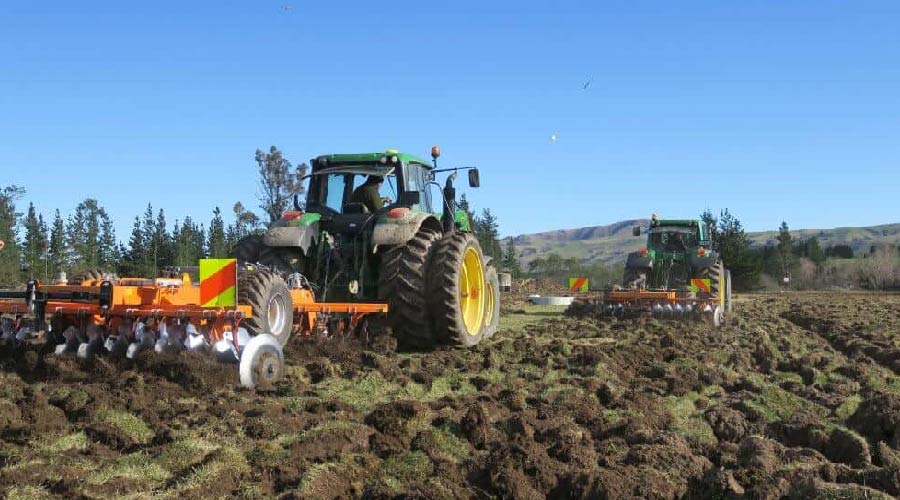 These discs are popular for a reason!
4AG Sales Manager Darren Raikes comments "Among all the tillage options available nowadays, from multidiscs, tyne implements and powered spike rotors, there are still many primary cultivation tasks where heavy discs and harrow take some beating".
A side by side demonstration of the two top-selling offset models DV 950 and DV 980 'Magnum' proved yet again that why these discs are so popular with farmers and contractors nationwide.
"The North Canterbury region has a strong following for our offset discs, with a lot of farmers, machinery syndicates and contractors running the 4AG brand. A lot of this growth has been the way the discs have coped with what is sometimes quite unforgiving conditions, both in stony soil and terrain" Darren says. With the dairying boom in this area, lots of new conversions, and a good amount of forestry being converted back to farmland, the combination of heavy discs and chain harrows is very cost-effective.
'The rolling cultivation' effect of a set of offset discs copes with foreign objects better than a plough or powered implement, and the heavy harrows hitched behind mean you can work old thatched pastures up to prepare a new seedbed, in a minimal number of passes. With workrates of 2.5-3.5 hectares/hour, developing rougher ground is no longer the time-consuming job it once was. "Weight and cut angle are key components of getting performance in tough pasture Darren says, and the 4AG offsets with full hydraulic function and frame and gang designs are all geared towards penetration."
Precise hydraulic tuning of the disc settings (from in cab), means the operator is achieving the maximum combination of depth and quality of finish in each pass, with the chain harrow doing a lot of cultivation and clod breaking in the rear.
All 4AG disc harrows feature the patented 'Terraflex' gang mounting, which is unique in the market. This design protects the taper roller gang bearings from any impact through rocks or timber, greatly extending the bearing life when working rough conditions. All other disc harrows have rigid mounting of the gangs to the chassis, this doesn't have any give and exposes the gang bearings to a lot of stress when hitting things.
Offset Discs – Working Primary grass, North Canterbury, New Zealand