A perfect balance between strength and weight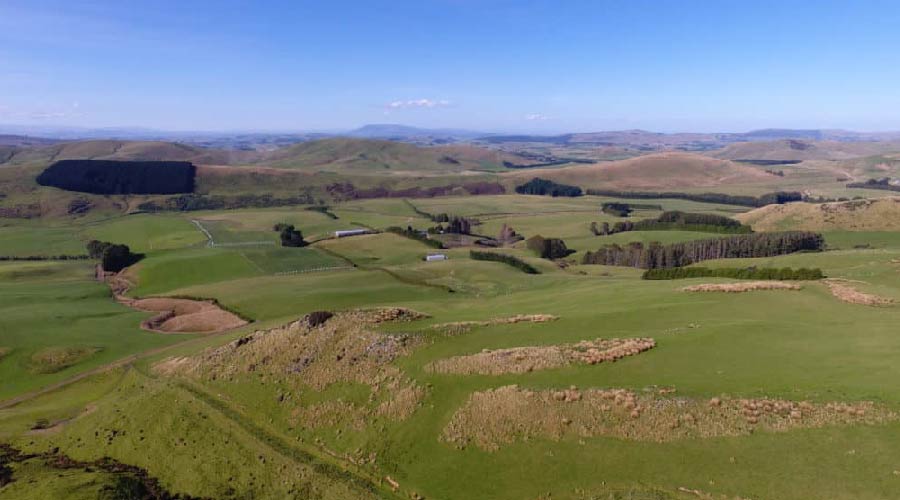 Mark and Sally-Ann Copland have a sheep and beef operation with 4,000 stock units on 800 acres in Southland. Their farm has a variety of topographies with a mix of challenges. "It's a third flat, a third moderate rolling, and one-third hilly," explains Mark. It's that steep third that causes issues and needs a specific solution to develop the land: a disc harrow that is light enough to get up the slope yet strong enough to dig into the soil. "I was quite emphatic: we had to keep that weight down," says Mark, who spent some time seeking out the right solution for his challenging terrain. He'd been watching a neighbour trying to work similar ground but with big, heavy discs, and knew striking that perfect balance was the key to success.
"Especially with steep ground soil gets very loose and if the discs are too heavy to get up the steep ground you'll have an issue," Mark explains the DV930 is that perfect mix of weight and strength. "Even with the very harsh ground there's no problem with them biting in." He's also pleased with the offset, as it leaves the field more even. "Just two passes and the paddock is so worked it's quite surprising. The 'one-way' unique design features leave it level with no ridges at all."
Where most discs he and Sally-Ann considered were up around the three-tonne mark, the DV930 is 2.2 tonne, and that little bit less makes a big difference. "We've been very, very happy with them," agrees Mark. "They are very strong and they take a hammering over the rocky ground, but because they are so light we can easily pull them."  The Copland's also knew they wanted European steel. As keen as they are on NZ-made they acknowledge that when it comes to durability and reliability European steel is the way to go. "I wanted Euro steel because it's tougher and stronger," Mark says. "Euro steel has 'give' – like a shock absorber – New Zealand doesn't have the tech to produce steel the way the Europeans do."
Alongside that flexibility the DV930 also has another great effect; they don't bring rocks out of the ground, rather they push them into the earth, smoothing out the 'lay of the land'. Another benefit is strong, scalloped blades. "Man, they are good quality! They never break," Mark enthuses, adding that bearings are also an important thing to get right. "Some disks have bearing issues, but these have a strong and cleverly designed bearing system, which can go for years and years trouble-free."
Before the Copland's signed on the bottom line with 4AG they were impressed that South Island Sales Manager Darren Raikes visited them onsite. "He came down and looked at the kind of country we're working," Mark explains that made all the difference. "Every property is different and that's more important than value for money. These, they go straight up the hills and they bite like mad. They really chomp the ground!"
The follow-up care from 4AG has given the Copland's peace-of-mind, even when their questions are just small ones.
Mark has been really impressed by the service from 4AG directly, and their network of local service agents, his comment was "4AG responds." Mark and Sally-Ann are over-the-moon with their DV930 discs, and they know they'll be just as pleased in 20 years when they'll still working them.
"It's got to be able to do the job and it's got to last – 20 years at least – my old ones are 40 years old," laughs Mark, who has been farming since 1980. "Long term I didn't want any maintenance issues, I didn't want anything that was only going to last me five years, they need to see me out farming," Sally-Ann says for her the ease of use with the DV930 discs is a big win.
"You go and hook on and just do the job," she says. "It's easy to operate: I think I've worked them more than Mark!  When you're out in the field, the cut is simple to adjust hydraulically, they are user-friendly. There's nothing complicated and they're very easy to work and easy to pull."
An added benefit is that machinery that is easy to pull cuts down on diesel usage, you aren't towing any more dead weight around that you have to. Reliability is important because without it machinery can become a big headache for a farming operation. Mark explains: "If you've got a dodgy bit of machinery your stress levels go through the roof. With farming you're on a timetable because of the weather, you want to get that crop in the ground and you're always under the pump a bit because of the weather. If you go out there and you think something might go wrong that just means stress. There's enough stress going on in farming without having things breaking. With these, I haven't had any stress."
Mark and Sally-Ann have been working the DV930 disk harrow for three seasons. "If any one asked me, I wouldn't hesitate in recommending them," says Mark.