TITAN 6300 AT HOME ON TAIHAPE HILL COUNTRY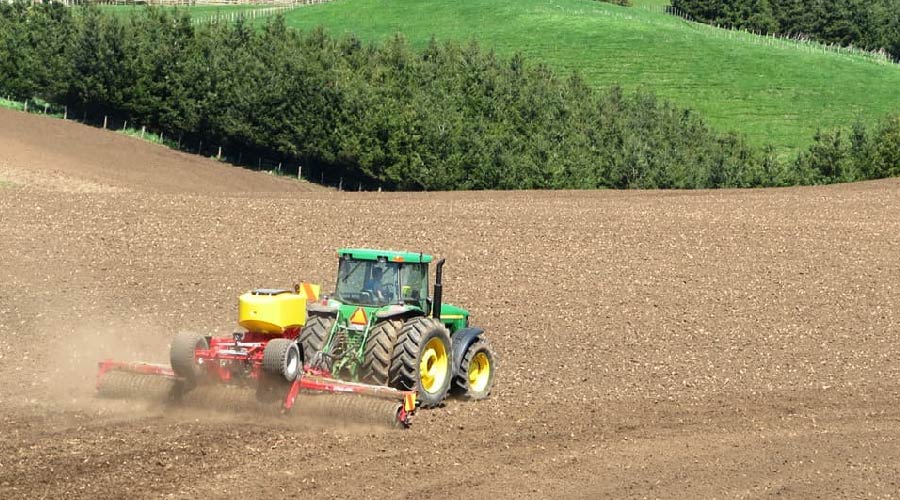 A new Titan 6300 roller drill from 4AG was put through its paces in the 'Big' hill country stations northeast of Taihape in September (2014).  Purchased by local Taihape contractor Ken Donovan who does the ag work on a number of the largest of these stations, the machine impressed its operator on its first outing.  With average paddock sizes of 30 hectares and some of the cropped paddocks getting up to 100 hectares, the increased width of 6.3mtrs made a huge difference to the work rate when compared with the company's previous 3.0mtr roller drill.
"We have it hitched to 340Hp John Deere 8410, so we don't notice towing it up the hills as much."
The wide-open spaces and rolling contour, along with the volcanic ash soil type, means the ground surface is pretty smooth for drilling.
"We can maintain an average drilling speed of 15 km/h in most of the bigger fields, and at this speed, the drill sits as stable and solid as a rock. We had a big job recently that had some pretty steep and awkward parts to it, and even so, we drilled  47 hectares in 10 hours.  
"I am really enjoying using the Titan, It's an awesome piece of gear."
"We ordered the optional rear towing drawbar, which allows us to tow a ute behind the roller drill on the road.  Being a fairly remote area, it often takes us a while just to get into the job, so this is a handy feature to have and saves us a bit of time."
Call our team to discuss the Titan and check out our full range of Roller Seed Drills!