Ticking all the boxes with HVRP Offsets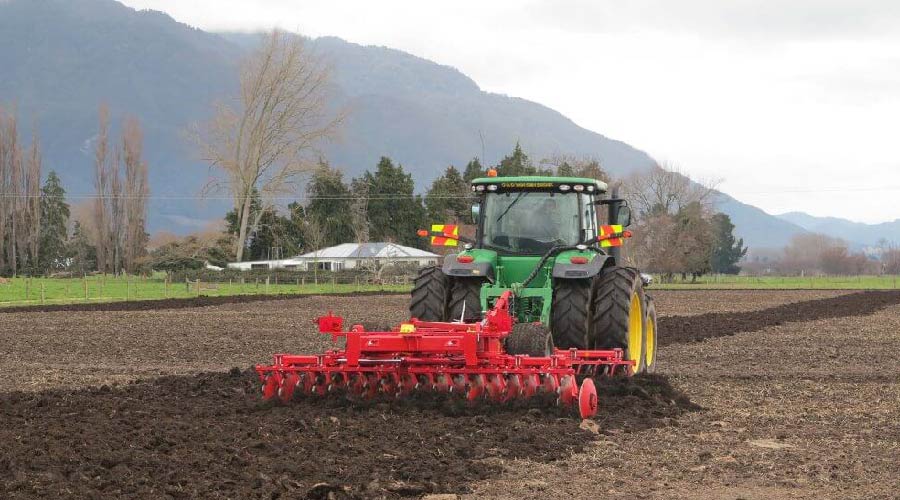 Chris Van Den Broek owns C & D Van Den Broek Contracting working in Eastern Bay of Plenty region near Galatea. Specializing in bulk grass and maize silage, Chris also does a big area of groundwork and cultivation, in a predominantly dairying area.Over the moon was the way he described the performance of his new 4AG HVRP Heavy Offset Discs, after putting them into the dirt for the first time.
Having owned a set of 4AG tandem discs for the past five years, and having a good run with this set, Chris spoke to 4AG with the view of upgrading, having expressed interest in a set of offsets, due to them being more user-friendly for staff, and easier to set up than tandems. Offsets leave a more level finish, and across the board are simpler to adjust the discing finish and to operate.
Chris set eyes on the 4.0mtr set for the first time at Mystery Creek in June, (2016) and liked what he saw. One feature that particularly caught his eye was the heavy triple beam frame construction, and the heaviest main gang pivots of any discs he had seen. Another feature that appealed to him was the ability to operate all hydraulic functions on the machine with only two remotes from the tractor. As standard the HVRP comes with an on-board electric diverter control system, which allows the operation of multiple hydraulics from the cab.
Front cut angle, rear cut angle, wheels, fore/aft balance control, and drawbar, all add up to a lot of hoses, so the control box function reduces these all into one two way box and two remotes, which is very user-friendly.
With 4500kg over 4.0mtrs, 660mm scalloped blades all round, triple-sealed taper roller gang bearings, and 500/50-17 oversize transport wheels, the discs are a serious piece of kit, with a lot of clever design and engineering. One hydraulic operation folds, unfolds and locks both gangs into work/transport mode, reducing the width to a safe, legal 2.5mtr for transport. After putting them through their paces in damp winter crop ground behind his new John Deere 8235R, and being able to perfectly tune the disc setup to give a very fine, even discing job, Chris is more than happy.
See the HVRP's in action below
HVRP 36 4.05m Heavy Offset Discs Working Winter Crop Ground – Galatea, New Zealand
HVRP